Anna Maria Dalla Valle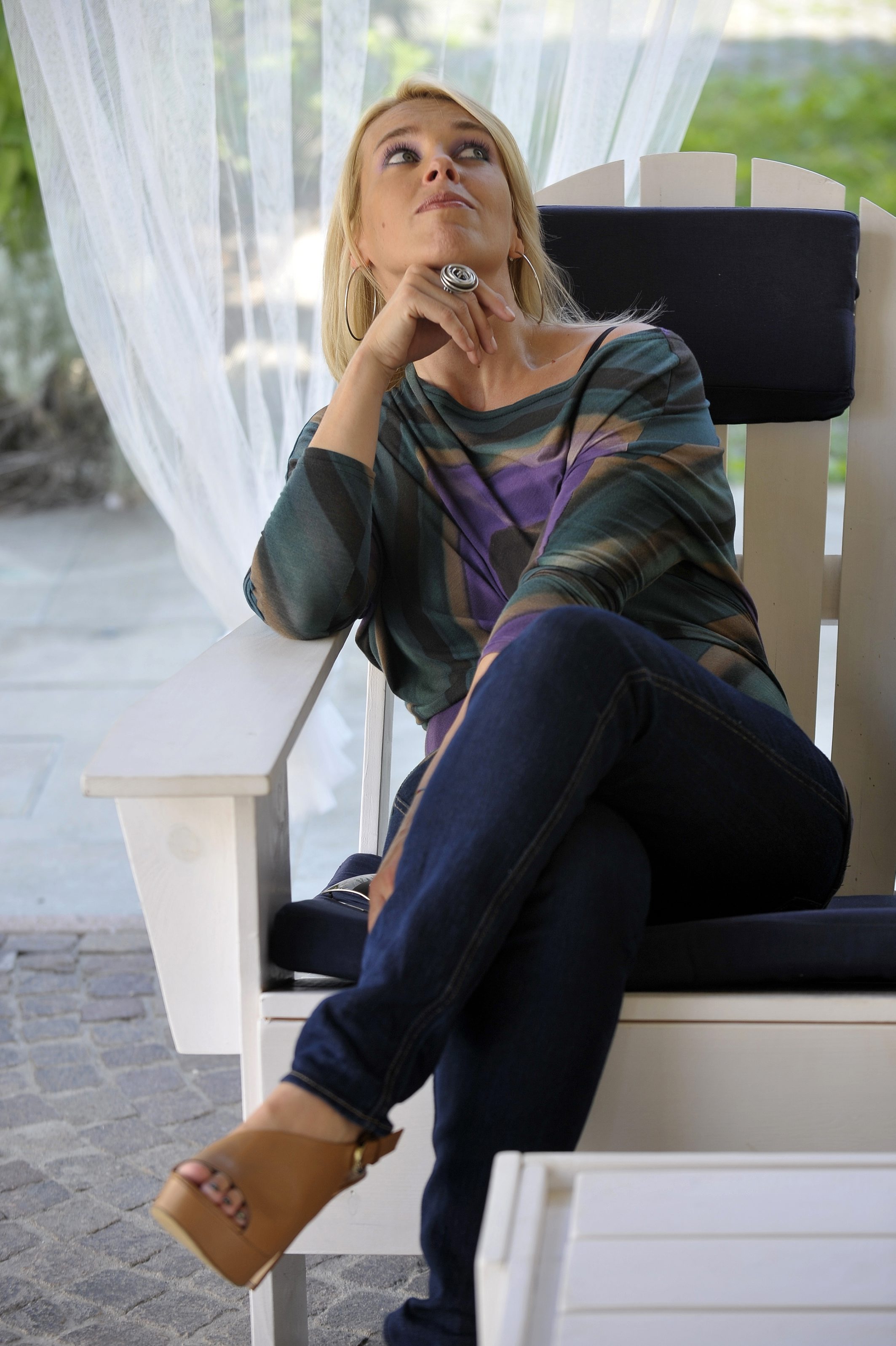 Veneziana, inizia giovanissima con gli studi classici, si diploma in flauto e procede con una ligia carriera da solista ed orchestrale classica. Studia anche canto, passione ereditata dalla mamma soprano,  con forte attrattiva per la musica contemporanea, la sperimentazione, ma pure per il rock. Inizia un'intensa attività concertistica in Italia e all'estero, sia solistica che in formazioni cameristiche e orchestrali, anche come ottavino e flauto in sol. Si confronta con il repertorio barocco, in duo con il clavicembalo, e cameristico, per quintetto a fiati; per diversi anni si dedica alla formazione flauto e arpa, prediligendo la letteratura musicale moderna e il contemporaneo. Allo stesso tempo fa parte di alcuni gruppi pop-rock e tribute band, sia come voce solista che come corista, occupandosi degli arrangiamenti vocali per alcuni progetti discografici. Dirige cori di voci bianche e voci femminili, oltre che formazioni orchestrali e bandistiche.
L'incontro con il jazz risale al 96, con la costituzione di un primo quartetto in cui prova a far confluire la sua estetica flautistica classica con le necessità timbriche ed espressive richieste dal  jazz. Nel 2002 si diploma in Jazz, studiando con Pietro Tonolo, Marco Micheli, Corrado Guarino. Nel 2011 si laurea col massimo dei voti e la lode, con una tesi riguardante le nuove tecniche flautistiche, presso il biennio specialistico in discipline musicali, ramo jazzistico, presso il Conservatorio di Adria. Segue stage di tecniche improvvisative e di arrangiamento con Pietro Tonolo, Stefano Benini, Fabio Petretti, Bruno Cesselli e di tecniche di composizione con Ben Allis, Corrado Guarino, Stefano Bellon.
Definita "il flauto poliedrico" dalla stampa ancora ventenne, colleziona da sempre linguaggi musicali differenti. Continua l'amore incondizionato per la classica, portato avanti in particolar modo in duo con il pianista Paolo Corsini, con la quale forma anche un intenso duo con l'organo, con un repertorio che associa la musica classica a brani originali di estrazione jazzistica. Si sperimenta nella World Music, con i Tantra Tribe Unlimited, gruppo vincitore di numerosi premi e riconoscimenti internazionali; nella Lounge Music, incidendo con la SuperLounge Orchestra, con il progetto "Magnetic4", come voce solista e flauto dei Groove Delight. Con il rapper Max'n'Bassador ed Otello Savoia porta avanti il progetto "HipHop meets Jazz", con diverse incisioni e live radiofonici per Radio Sherwood, e fa parte di diverse formazioni di musica brasiliana, come il trio "Estrangeiros" con la cantante Carlotta Martorana, e incidendo per il gruppo di bossanova "Nossa Alma Canta". Incide anche per progetti rock progressive, come nel disco di prossima uscita del gruppo musicale Egonon.
Estremamente attratta dall'orchestrazione, ha composto ed arrangiato per l'OrchestraComponibile, gruppo di sperimentazione musicale con orientamento jazzistico, del quale fa parte anche come flautista, e nel 2010 ha inciso il disco "Musica per piccola orchestra e 5 direttori" della medesima formazione. Nel 2011 dirige alcuni suoi brani arrangiati per l'OrchestraComponibile, con  solista il sassofonista Maurizio Giammarco.
Fa parte del "Paolo Corsini Sextet", collaborando con Cinemazero (PN) per il progetto riguardante il CinemaNoir, assieme a Mirko Cisilino, Filippo Orefice, Paolo Corsini, Alessandro Turchet, Andrea Pivetta, e degli "Astral Travel" (Spiritual Jazz) di Tommaso Cappellato, con Alessia Obino, Paolo Corsini, Marco Privato.  Nel 2013 incide con Astral Travel "Cosm'ethic", con l'etichetta inglese Jazz Re:Freshed.
Il suo ultimo progetto personale, in quartetto con Paolo Corsini al piano, Salvatore Pinello al contrabbasso e Matteo Palma alla batteria, è costituito da brani di sua composizione, manifesto sia di una preponderante motivazione timbrica ed effettistica del flauto,  sia del proprio gusto della costruzione dei brani, con rimandi ad un gusto monkiano della composizione, una spinta ritmica ispirata dalla propria passione per la drum'n'bass, il tutto spolverato da molta ironia… musicale. In riassunto acustico, pubblica nel 2012 il disco "A Casa Mi Veniva" in solo duo con Paolo Corsini, proponendo la medesima idea compositiva.
Da più di un ventennio è docente di flauto (classico e jazz) e canto moderno in varie scuole del veneziano, seguendo anche i corsi di musica d'insieme moderna, jazz e vocale, ed ha curato anche corsi di propedeutica musicale nelle scuole elementari e medie; è attiva come vocal coach per la preparazione di concorsi vocali e contest musicali. Collabora come critico musicale e voice specialist con alcuni settimanali e siti specializzati. Come scrittrice, è autrice di testi per spettacoli teatrali e reading musicali, tra i quali il progetto "Strange Fruit – Omaggio a Billie Holiday"" di Valeria Bruniera.
_____________________________
Born in Venice, Anna began classical studies at a very early age, achieving flute's diploma and then progressing through a strict career as a solo and as member of classical orchestras. She dedicated herself to singing lessons, following the passion to which her mother gave birth as a soprano, and she deepened a strong interest for contemporary music, artistic experimentation and rock too.
At a certain stage, Anna started an intense concert activity, both in Italy and abroad, with experiences as solo, member of chamber music formations and orchestras, playing piccolo and alto flute as well. She had the chance to confront herself with a baroque repertoire, in a duet with harpsichord and a chamber one, with a wind quintet. For several years, she has been getting into flute and harp lessons, maintaining a high preference for modern musical literature and contemporary style. At the same time, she took part as solo and choir voice in various pop-rock groups and tribute bands, working on the vocal arrangements of some records' projects. Moreover, Anna supervised several treble voices and female choirs, besides some orchestral and bandsmen formations. The earliest encounter with jazz happened in 1996; she constituted her first quartet, in which she tried to make her classical flute aesthetics merge up with the tone color and expressive needs of jazz. In 2002, she achieved the Jazz's diploma, after the studies carried on with Pietro Tonolo, Marco Micheli and Corrado Guarino. In 2011 she graduated with first-class honors and the highest marks at the Adria Academy of Music in Musical Disciplines – Jazz field, with a thesis regarding the new flute techniques. After that, she began following improvisation methods' and arranging stages, with Pietro Tonolo, Stefano Benini, Fabio Petretti and Bruno Cesselli, as well as composition methods' classes with Ben Allis, Corrado Guarino and Stefano Bellon. Called by the press the polyhedral flute at the age of 20, Anna collects the most different types of musical languages. She still treasures her love for classical music, which she carries on especially in the duet made with Paolo Corsini at the piano, with whom she also founded an intense duo flute-organ. The repertoire plays classical music with unique pieces of jazz origin. She experimented World Music with "Tantra Tribe Unlimited", internationally recognized and award-winning group; there were also experiences in Lounge Music, considering the record with SuperLounge Orchestra, the project "Magnetic4" and the contribute as solo voice and flute with Groove Delight. She carried on the project "Hip Hop meets Jazz" with the rapper Max'n'Bassador and Otello Savoia; she made quite a few records and live for Radio Sherwood and she took part as well in various brazilian music formations, such as the "Estrangeiros" trio, the singer Carlotta Montana and the bossanova group "Nossa Alma Canta", which she recorded with. There have been several progressive rock projects, including the upcoming record with Egonon. Due to the great attraction for orchestrating, she composed and arranged pieces for the Orchestra Componibile, experimental music and jazz-oriented group which she also took part as flute member; with this group, she cut the record "Musica per piccola orchestra e 5 direttori" (Music for the little orchestra and five conductors) in 2010. In 2011, she supervised some of her arranged pieces for the OrchestraComponibile, with the solo and saxophone Maurizio Giammarco. She now takes part in the "Paolo Corsini Sextet", experience that includes collaborations with Cinemazero (Pordenone) for a project regarding the Noir Cinema ("CinemaNoir"), along with Mirko Cisilino, Filippo Orefice, Paolo Corsini, Alessandro Turchet and Andrea Pivetta; besides, she is part of the Tommaso Cappellato's group "Astral Travel" (Spiritual Jazz), with Alessia Obino, Paolo Corsini and Marco Privato. Her very last personal project involves Paolo Corsini at the piano, Salvatore Pinello at Double Bass, Matteo Palma at the Drums and it's made by self-composed tracks, showing the predominant tone and stylistic pulse along with a distinct personal taste in pieces' set up. Throughout the tracks' composition, it can be sensed a clear monkian taste, a rhythmic rush inspired by a personal fondness on drum'n'bass and a final overall touch full of musical irony. In the acoustic overview, there's the 2012 release of the record "A Casa Mi Veniva" (It just worked, at home), a solo duo with Paolo Corsini that proposes the same composing idea. For the last twenty years, Anna has been holding flute (classical, jazz) and singing lessons in various institutes of the Venetian area, along with joint music courses for the modern, jazz and vocal branch; she oversaw also preparatory musical courses for elementary and middle schools. Nowadays she plays an active role as vocal coach in order to prepare for vocal and musical contests; besides, she cooperates as musical reviewer and voice specialist in some focused weekly magazines and websites. As a writer, she figures as playwright of various texts in the theater context and author of musical readings; among the others, a remarkable one is the project "Strange Fruit – Homage to Billie Holiday", leaded by Valeria Bruniera.