Paolo Corsini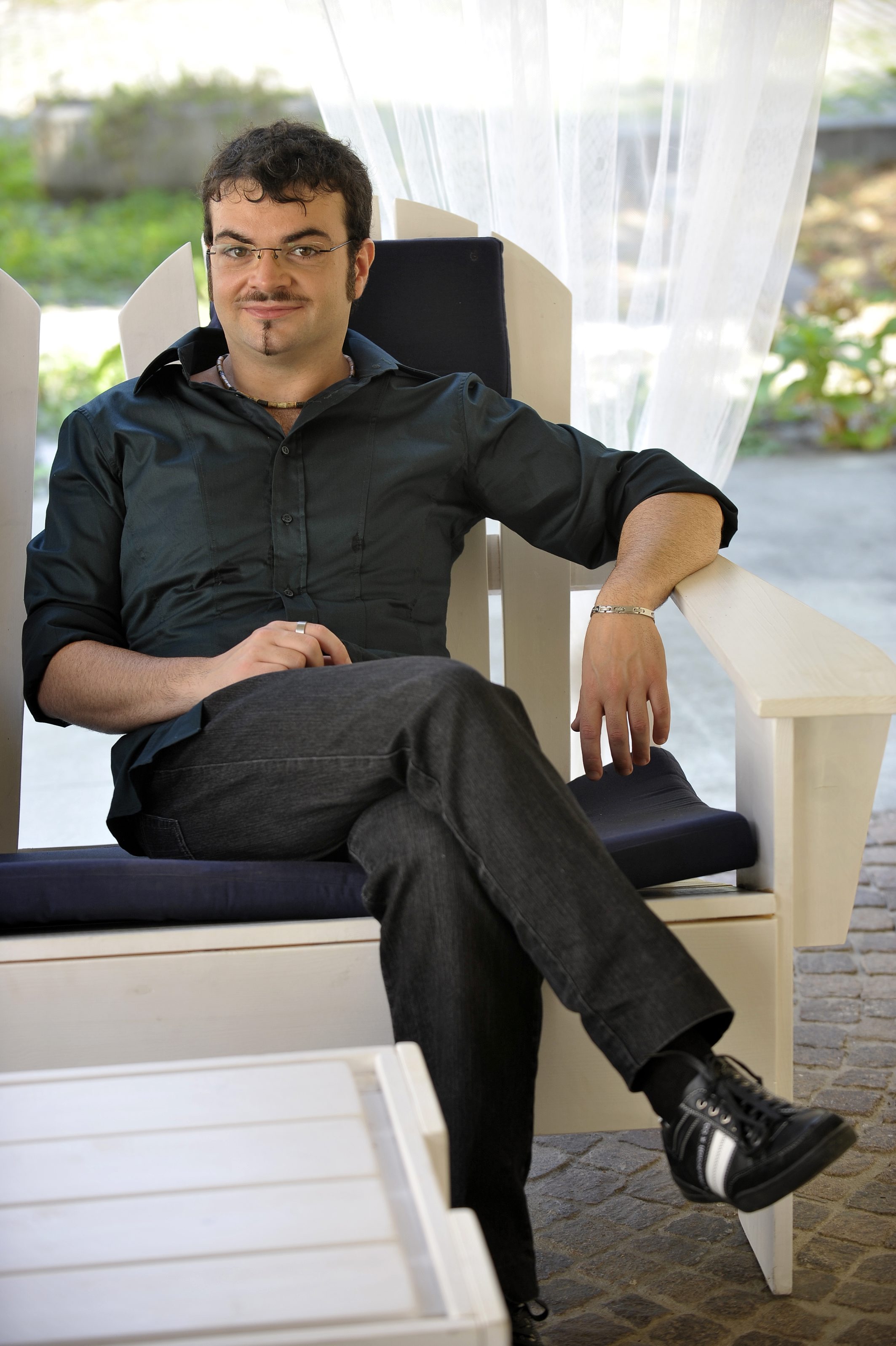 Inizia prestissimo lo studio del pianoforte, in un eterno dondolio tra la musica classica e il jazz. Da un lato Bruno Cesselli per lo studio del repertorio jazz, dall'altro Battista Pradal e Massimo Nason per quello classico. A 15 anni inizia ad esibirsi dal vivo, con i primi gruppi jazz, funk e anche rock. Da subito si appassiona alla composizione, sperimentando la commistione tra suoni acustici e l'utilizzo della strumentazione elettronica. Partecipa al progetto "Ezz-Tetich", laboratorio di commistione tra musica acustica ed elettronica (drum n bass, trip hop). Si inserisce insieme ai tre DJs Alessandro Corsini, Piero Vit e Leo Gementi come performer al piano, piano elettrico ed ai sintetizzatori.
Frequenta nel 2004 i seminari di Siena Jazz con Stefano Battaglia e Franco D'Andrea e molti nomi importanti della scena jazz italiana. Lavora con il sassofonista udinese Federico Missio, con il quale partecipa alla 6a edizione di Sestri Jazz nel 2006. Segue anche la pubblicazione dell'album "4+1" (2007) insieme ad Alessandro Turchet, Maurizio Cepparo e Massimo Manzi. Nel medesimo periodo entra nell'organico dell'Abbey Town Jazz Orchestra con la quale si confronta con i repertori classici dello swing. Con l'Abbey Town si esibisce al Summer Jamboree a Senigallia, festival internazionale di musica swing e incide nel 2007 nell'album "Big Band Jump!". Prende parte al gruppo U.T. Gandhi Fearless Five, con il quale esplora il mondo del jazz-rock di Miles Davis, Joe Zawinul e dei Weather Report. Nel gruppo effettua un appassionato lavoro di trascrizione ed adattamento del repertorio, concentrandosi nell'utilizzo esclusivo del piano elettrico e dei sintetizzatori. Con i Fearless Five, che in seguito si allargheranno a sestetto rinominandosi "Vertical Invaders", ha l'occasione di esibirsi al festival di Atina Jazz, al festival internazionale Sunsplash, alla rassegna Vocalia di Maniago. Gli sforzi confluiscono nella pubblicazione dell'album "Travellers" (2008). In occasione della rassegna Jazz Koinè 2008 costituisce un proficuo duo " Rivolti dal Basso" con il brillante contrabbassista Alessandro Turchet, lavorando sull'unificazione del linguaggio Be-Bop con le atmosfere cupe e claustrofobiche del progressive inglese di metà anni 70. Una silenziosa "rivolta" interiore, ampliata dagli effetti disumanizzanti dello scenario sociale moderno, che partendo dal "Basso" sfocia nella volontà di ricreare tali atmosfere unificando la prima forma moderna assunta dal Jazz con una forma di Rock maturo e rituale. Si interessa alla musica improvvisata lavorando con diverse realtà presenti nel veneto e friuli, in duo con il sassofonista Luciano Caruso, con l'orchestra Improvvirussoundexperience, in duo con il flautista Massimo De Mattia e in seguito con l'Orchestra Componibile con la quale incide nell'album "Musiche per piccola orchestra e 5 direttori" (2010). Dal 2010 è parte del gruppo "Funambolique… theatre jazz" con il quale propone un repertorio originale, principalmente ad opera  di Luca De Michel, di carattere "teatrale", figurativo. Con loro pubblica l'album  "Arzestula" nel 2011.
Nel 2010 consegue, con il massimo di voti e la lode, il diploma accademico di II livello in discipline musicali ad indirizzo interpretativo compositivo di musica jazz, con una tesi che si immerge nell'analisi del pensiero compositivo ed esecutivo di Wayne Shorter, mentre l'anno successivo consegue  il diploma di pianoforte presso il conservatorio di Trieste, sotto la guida del maestro Gianni Della Libera.
Dal 2011 forma un ambizioso duo con la flautista Anna Maria Dalla Valle con cui pubblica nel 2012 il disco acustico "A Casa Mi Veniva", in cui sono presenti brani di entrambi i musicisti. La collaborazione prosegue con l'uscita di "Squirrel Beats", EP ideato di concerto con DjEnjoy & The Blunt Needles, rielaborazione compositiva ed elettronica di alcuni brani presenti in "A Casa Mi Veniva".
Viene assoldato da Tommaso Cappellato nel 2012 per la costituzione del gruppo "Astral Travel" nel quale viene incaricato come "musical director". Con Alessia Obino, Anna Maria Dalla Valle e Marco Privato, si cimenta nel repertorio del cosidetto "Spiritual Jazz"( seguendo le orme di Harry Whitaker), nelle stesure di brani originali di Tommaso Cappellato, di Anna Maria Dalla Valle e propri. Nel 2013 incide con Astral Travel "Cosm'ethic", con l'etichetta inglese Jazz Re:Freshed.
Sempre nel 2012 da i natali al "Paolo Corsini Sextet" (con Anna Maria Dalla Valle, Mirko Cisilino, Filippo Orefice, Alessandro Turchet, Andrea Pivetta) nato per lo specifico avvenimento "Jazz in Noir" nella importante manifestazione "Visioni Sonore 2012" di Pordenone. Trascrive e arrangia le colonne sonore di sei film noir per sestetto per poi suonarle dal vivo durante la proiezione di alcune sequenze originali delle pellicole.
Dal 2003 effettua attività di insegnamento presso scuole di musica nell'area del Veneto e Friuli.
_____________________________
Paolo began his piano studies at a very early age, swinging between classical and jazz music. On the jazz repertoire, he was followed by Bruno Cesselli, while on the classical one there were Battista Pradal and Massimo Nason. At 15, he started live performances, with his first jazz, funk and rock groups. He had a fondness on composition from the very beginning, so he experimented musical commixtures of acoustic sounds with electronic instrumentation. He took part in the "Ezz-Tetich" project, a laboratory that mixed acoustic music with electronic one (drum'n'bass, trip hop). Moreover, he joined as a piano, electric piano and synthesizer's player three DJ's, Alessandro Corsini, Piero Vit and Leo Gementi. In 2004, Paolo attended Siena Jazz seminaries, with Stefano Battaglia, Franco D'Andrea and many other outstanding names in the Italian jazz panorama. He worked with Federico Missio, saxophonist from Udine, with whom he took part in the 6th edition of Sestri Jazz (2006). He also followed the release of the album "4+1" (2007), together with Alessandro Turchet, Maurizio Cepparo and Massimo Manzi. During that same period, he took part in the staff of the Abbey Town Jazz Orchestra, confronting with classical swing repertoires. Together with Abbey Town, he performed in Senigallia at Summer Jamboree, international swing music festival; afterwards, in 2007 he cut the record "Big Band Jump!". He joined U.T. Gandhi Fearless Five group, exploring the jazz-rock universe settled by Miles Davis, Joe Zawinul and the Weather Report. In this experience, he worked on the transcription and adaptation of the repertoire, focusing on the exclusive use of the electric piano and synthesizers. With the Fearless Five, subsequently renamed "Vertical Invaders" as the group enlarged to six members, Paolo had the chance to perform at the Atina Jazz festival, the international festival of Sunsplash and at the Vocalia exhibition in Maniago. All those efforts merged up in the release of the album "Travellers" (2008). During the Jazz Koinè season review in 2008, he formed the duo "Rivolti dal Basso" with the bright Double Bass player Alessandro Turchet, working on a fusion between the Be-Bop language with the dark, claustrophobic atmospheres of English half 70s' progressive style. A silent interior "riot", widened by the dehumanizing effects of the modern social scenery, that starting from the lowest point, from the "bottom", meant to recreate those atmospheres through the union of the first assumed modern Jazz form with a ritual, mature form of Rock. Paolo grew his interest in musical improvisation and worked with different realities in Veneto and Friuli regions, making duets with the saxophone player Luciano Caruso and with the flute player Massimo De Mattia, taking part in the "Improvvirussoundexperience" orchestra and, afterward, in the Orchestra Componibile, which in 2010 he cut the record "Musica per piccola orchestra e 5 direttori" (Music for the little orchestra and five conductors) with. Starting from 2010, he's a member in the "Funambolique… theatre jazz" group, proposing an original repertoire mainly created by Luca De Michel, characterized by a "theatrical"-figurative nature. With this group, he gave birth to the "Arzestula" record, in 2011.
In 2010, Paolo graduated with the highest marks and first-class honors, getting the 2nd level academy degree in Musical disciplines – Jazz interpretative-composing field – with a thesis that deeply analyzed the composing and performing way of thinking of Wayne Shorter. The following year he achieved the classical piano diploma at Trieste's Academy of music, followed by his teacher Gianni Della Libera. In 2012, Tommaso Cappellato dragged him to form the "Astral Travel" group, in which he had been charged as the music direcTor. Together with Alessia Obino, Anna Maria Dalla Valle and Marco Privato, he undertook a so-called "Spiritual Jazz" repertoire (following Harry Whitaker's path), with original musical drafting by Tommaso Cappellato, Anna Maria Dalla Valle and himself.In the same year, he gave birth to the "Paolo Corsini Sextet" (with Anna Maria Dalla Valle, Mirko Cisilino, Filippo Orefice, Alessandro Turchet and Andrea Pivetta), a group especially formed for the "Jazz Noir", in the wider range of events "Visioni Sonore 2012" settled in Pordenone. Paolo wrote up and arranged for the sextet six noir movies' scores, in order to perform them live during a screening of some original films' clips. From 2003 on, he has been playing an active teaching role in various music schools, in Veneto and Friuli areas.